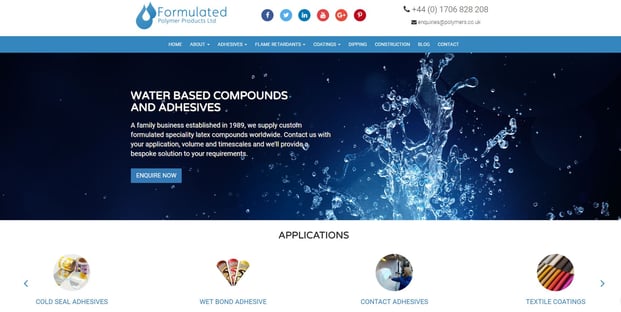 We are delighted to announce the launch of our new website, expected to come online this week. The new site has been extensively expanded and restructured to provide added content, free resources and an improved user interface. You will be able to access all our major products and services from an intuitive navigation menu on the homepage, making it even easier to find the information you need.
Here is a summary of what you can expect from the new website…
Improved Product & Service Information
We have added several new pages giving information on our key products and services. You will have instant access to key technical data, and all the information you need to make a quick purchase decision.
Improved Communication
We have made it easier for you to get in touch with us, with enquiry forms nested in all major pages, plus easily accessible phone, email and social media details. We have also included subscription links to our newsletter: keeping you up-to-date with company and industry news and special offers.
Free Content
One of the main focuses of our new website is free content. This includes our regular Formulated Polymers blog, a YouTube video channel and a series of downloadable e-books, brochures and guides. The downloadable content is available free of charge.
Improved Mobile Interface
The new website is completely responsive, making it even easier to access on tablets and smart phones. All code and content has been optimised to load quickly and display well on any screen size, giving you complete control over how you access our site.
Find Out More
At Formulated Polymers we produce a range of latex compounds used as textile treatments, adhesives, food packaging coatings, flame retardant dips and much more. We have a standard range and the capacity to formulate tailor-made products to match specific requirements. To find out more, please call 01706 828208, or send a message through our online contact form.