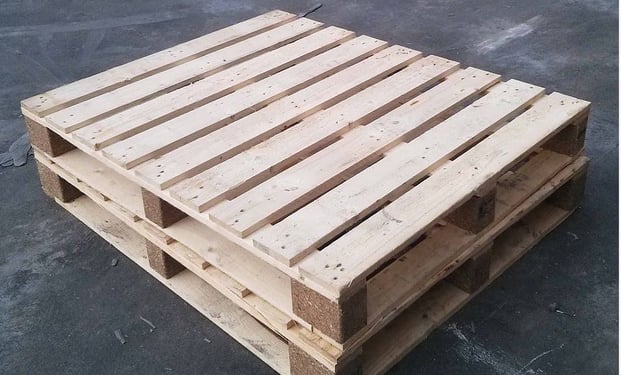 Anti-Slip coating is used to lock several tiers of products together to make a solid unitised load that you can manually handle. It prevents items from shifting in transit, which leads to increased stability and safety.
The role of the anti-slip coating is to prevent the slippage of cartons, bags, cases, and other items up to a 45-degree angle. The surface is non-porous and non-adhesive, which means it will feed through automatic dispensers easily, no double feeding required.
The anti-slip coating manufactured by Formulated polymers is primarily used for shipments in warehouses because it ensures cohesiveness to items a big benefit to health and safety in the workplace.
The Most Common Uses Of Anti-Slip Coatings
On top of slip sheets and pallets to protect items from pallet roughness, prevent dampness, and stabilise the layers of a product to ensure a strong bond between a plastic or wooden pallet with the load.
On top of the items when you have stacked pallets, to protect the last layer of products from damage by wooden pallets, to prevent slippage and friction, and to avoid dust touching the surface.
Between layers of a product to increase product stability, packing solidity, and have larger pallet quantities to save on shipping costs.
Advantages Of An Anti-Slip Coating
Better Stability Of The Pallet
Anti-Slip coatings improve the coefficient of friction of your items. It will help prevent slides when a turn is necessary. With the properties of this coating, you can increase the stability of all items on the pallet. Anti-Slip coatings will increase protection for your items in shipment and limit the amount of damages and complaints.
Economically Efficient
Anti-Slip coatings can sustain wear and tear, and weather and water damage. Once it's applied, it doesn't require frequent reapplication. It's made of eco-friendly materials ensuring its production doesn't have a negative impact on the environment. You can reduce the space in your inventory while protecting nature.
Increased Safety
Anti-Slip coatings offer a high degree of stability, which decreases damage in palletised loads and protects you and your employees during loading and unloading.
Reduces Level of Stretch Wrapping Required
You can apply the coating on items of different sizes and make it slip resistant. Therefore, you won't need anything else to stabilise the pallet.
Other advantages include:
Reduced movements of products;
Allows to optimise volume loading of containers and trucks;
Higher warehouse efficiency;
Eliminate the need for additional shipping packaging material.
Call our team at Formulated Polymers today to discuss a rock-solid load anti-slip formulation for all your transportation needs.