It's time to improve the performance of cold seal for flexible packaging converters.

Mechanical Stability Of Cold Seal FP2200

Cold seals contain a high proportion of natural rubber latex.
The mechanical stability is very important to cold seals as the adhesive is subjected to high levels of shear where the doctor blade meets the gravure cylinder.
FPP have been an approved test house for measuring the mechanical stability of rubber latex using a klaxon stirrer.
Using the klaxon stirrer FPP have produced a range of cold seals with a MST level of between 4000 to 5000 seconds, without affecting bond strengths on OPP films.
Cold seals are normally in the range of 1500 -2500 seconds when coagulation occurs.



Mechanical Stability Test – Klaxon Stirrer

The 80grm sample is filtered into the plastic container prior to test.
The container is locked into position by clips either side.
Spindle revolves at 14000 RPM , creating a vortex with extremely high mechanical shear on the rubber latex particles.
The end result of and unstable cold seal – the rubber particles have coagulated due to the high mechanical shear.

Bond Strength & Adhesion To OPP
Bond strength (cohesion) and adhesion to the substrate are closely linked, this balance between natural rubber latex and the other polymers in the formulation is key to achieving the best performance from a cold seal.
The rubber latex provides the cohesion and a blend of low odour polymers provide the adhesion to the untreated OPP.

FPP Crimp Sealing Unit
| | |
| --- | --- |
| | |
| 25mm sample is sealed at 30psi for a dwell time of 1 second. | The sealed sample is held at 90 degree angle and pulled apart at 200mm/minute. |

Performance Summary – FP2200
Vastly improved mechanical stability – delivering better doctor blade wipe.
Very low ammonia level to reduce vapour discomfort for press operators.
Strong seal strengths on untreated OPP films at low coating weights.
Good rub resistance.
Satisfactory release in the reel from polyamide release lacquer.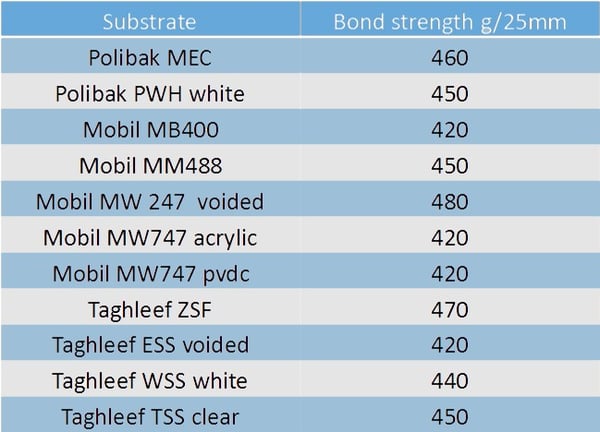 The table demonstrates expected values when cold seal FP2200 is thoroughly dried at a coating weight of 3.0 gsm dry, and sealed with a crimp jaw.
Back to top