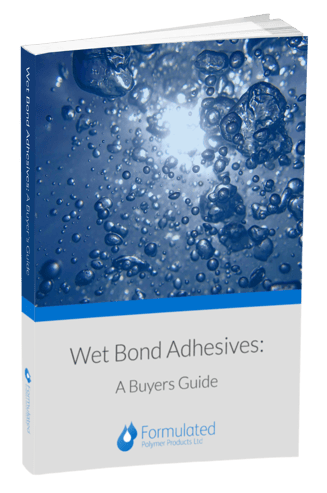 Wet bond adhesives play an essential role in many different types of packaging. So why is it often so difficult to find the right level of heat resistance, the correct lamination strength, consistent quality and affordable price for these products?
These issues and their solutions are discussed in our new e-book: Wet Bond Adhesives: A Buyers Guide.
The guide takes a step-by-step approach to the main problems faced by the food packaging industry when sourcing wet bond adhesives. These include:
How to achieve the right level of heat resistance
How to ensure your products meet food safety and allergen requirements
How to keep costs down while ensuring the best quality
How to achieve the correct viscosity
How to source the right suppliers and achieve consistent quality every time
For every problem we propose practical solutions from a buyer's perspective, focusing not only on technical detail but also on the nuts and bolts issues of cost, consistency and delivery timescale. The food packaging industry is extremely demanding. With production runs of thousands or tens of thousands of units, even a fractional increase in cost has the potential to dramatically affect productivity and profit. At the same time, there is absolutely no room for manoeuvre on quality and food safety compliance – as consumers rightly expect the highest quality standards for all their packaging.
The solution, we have found, is to take a results-based approach to adhesive formulation, proposing custom solutions based on your business goals and ensuring maximum value is achieved within your project budget.
Our Wet Bond Adhesive Solutions For Food Packaging Businesses
As a bespoke chemical manufacturer with nearly 30 years' experience creating latex compounds for customers, we have a firm understanding of wet bond adhesives. Our flagship adhesive product is the innovative Wet Bond 2068 (FP2068), a water-based adhesive designed for use in wet lamination of aluminium foil/metallic film to a substrate of paper, cardboard or glassine. It is hydrophobic, heat-resistant, grease resistant, food safe, casein and starch free – and is designed to withstand heavy embossing.
The thermal -resistance and tensile strength of Wet Bond 2068 can be increased by mixing with our Cross Linker 2067 (FP2067). This makes our standard range of wet bond adhesives adaptable to any type of high-performance food packaging, including microwave and oven proof packaging.
We also specialise in completely bespoke formulations, the goal in every case being to match the end product to your precise project goals.
Claim Your Copy Of Wet Bond Adhesives: A Buyer's Guide
Our e-book is available for free and can be downloaded directly through this website. Follow the book image and link on the right-hand side of this page, or click here to access your copy. If you have any specific questions about our product range or would like to discuss a project with one of our technical experts, please get in touch by phone on 01706 828208, or send us a message through our contact page.