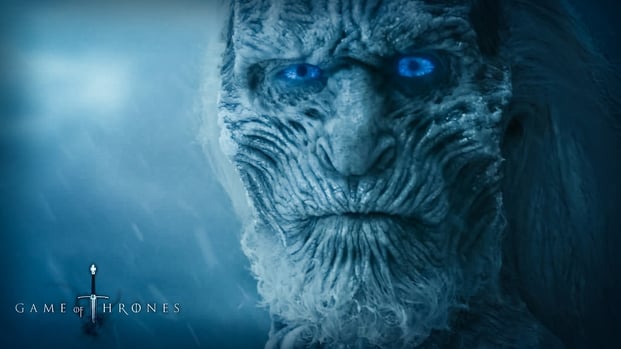 We've all seen those extravagant white walkers in Game of Thrones. Their makeup, as well as all the wounds, scars, and burns are made with a special technique that might seem like an art beyond the reach of ordinary people. In fact, the Game of Thrones uses liquid latex and even a basic understanding of this material is enough (in principle!) to get started making your own creatures.
We should be clear from the start. We love Game of Thrones and our team includes many devoted fans, but we are in no way involved in the film production ourselves. However, we do formulate liquid latex products, some of which are identical to those used in GoT special effects. We've used the Game of Throne example to illustrate how liquid latex products can be applied to a non-industrial context – in this case the film/television business.
The Making Of A Monster
A film costume director can get an extravagant costume and apply intense makeup all over an actor's body but nothing looks more realistic than physically changing the body. You're not a beast if you don't have a huge forehead and fangs. If you want to be a demon, you need horns. And if you want to be a white walker, you need those spikey things on your face and shoulders. In films, all of these things are accomplished with liquid latex.
The main benefits of liquid latex include:
It shrinks a little bit to create a second skin feeling
It's available in different colours and emphasizes the most realistic look
Can be used in costumes, garments, accessories, makeup, and more
Safe to apply on the skin - doesn't clog pores and allows the skin to breathe
You can add sparkles to the liquid latex to achieve shine and the "wet look"
Stays in place for many hours; you can smile, laugh, and freely move around and it won't crack
Quality liquid latex will allow for emotions to show through and the mask will be consistent and solid throughout many hours of wear. The easiest applications can be used to hide the effects of mechanisms, such as bullet hits and blood tubes. If you have more experience with latex, the actor can become completely unrecognisable as a human.
Bringing Fantasy Creatures To Life
With liquid latex, film producers can tell the story of a creature in a way that everyone will understand just by looking at it. Even though such liquid latex masks that you see in the Game of Thrones are hard to learn how to do, small wounds and bruises are very easy to make. Some people work for years to master this technique but getting started is easier than you may think. Liquid latex is frequently used beyond the studios of Hollywood – including West End stage productions, although we don't recommend using it for your Halloween party unless you know what you are doing.
In the Game of Thrones and other films and shows, they often use a life cast to achieve a perfect effect. They have a perfect statue that represents the creature they want to achieve and then they work on the small details to create pieces with new textures and shapes. This is one of the hardest techniques that can be learned and only after all the basics have been mastered.
Liquid Latex In Industry
The overall success of your project will depend on the quality of liquid latex and the creativity of your product designers. Always follow the simple rule of all filmmakers: special effects and makeup look the most natural when it doesn't call attention to itself. Our formulations can help you achieve the result you need, every time, regardless of your application. Liquid latex is widely used as a special effects tool. In industry it is also used for a wide range of other purposes, including toys and masks, condoms and surgical gloves. To find out more, please get in touch with one of our technical sales team today.