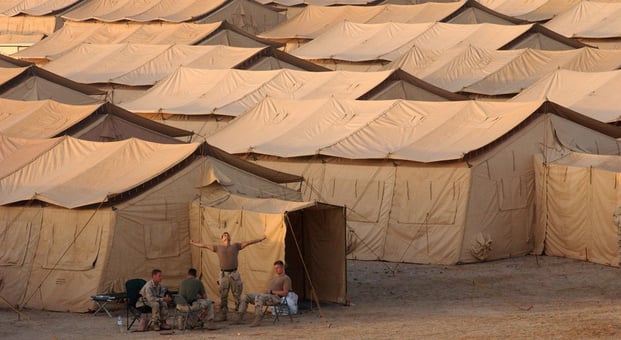 Left untreated, the natural and artificial fabrics used in tents pose a high fire risk. Our team at Formulated Polymers have developed a range of flame-retardant products to enhance the protection of tent fabrics against fire, as well as protection against bacteria, and fungal pathogens.
Fire Safety For Military Tents
A big customer for flame retardant fabrics is the Ministry of Defence. Soldiers constantly face an extraordinary array of dangers and elements on active service, fire in camp being one of them. When military tents are treated with flame retardant products, the risks of a hazard caused by a fire event on the tent are much lower. When these materials are exposed to fire; for example, a lit cigarette, the damage will be limited to a small area and won't become fully involved by fire. The fabric will extinguish the fire and additional firefighting actions won't be necessary.
Flame retardants are added to tents and other textiles to reduce their flammability. They are mostly applied to materials that are susceptible to fire and have to meet strict fire safety standards, such as military tents, uniforms, furniture, construction materials, and more. Our products are quality fire retardants intended for exterior and interior use. These compositions can be applied by impregnation.
Important Properties Of Flame Retardants
All Formulated Polymers products are designed to meet British Standards (BS) flame retardant performance specifications. All flame retardant chemicals are tested before being released to the market, following a quality control process with all the necessary tests carried out by specialist fire safety labs. Matches, and 'cigarette sources', such as lighters are used to test the performance of flame retardant treated fabrics.
To meet British fire safety standards, a treated fabric must not ignite or create a flame when subjected to a heat source for a certain amount of time.
Most flame retardant products share the same components, including hydrogen, nitrogen, and phosphorus. Melting, transition, and combustion temperatures depend on the mix of these components and must all be taken into consideration when choosing a flame retardant product.
Domestic & Commercial Tent Fabric Treatments
Of course, it isn't just military tents that are at risk from fire. Personal tents are at an equal or greater risk. The fact that family tents don't usually go up in flames due to stray sparks from BBQs is largely due to widespread use of flame retardant fabrics in the outdoors industry. Water resistance – another extremely important factor in tents – can also be enhanced by certain dip treatments, as can fungus, mould and bacterial resistance. Canvas tents, such as commercial marquees, can be successfully treated to stop discolouration and bad odours; a big advantage in tents that are used regularly in all weathers.
Fabric Treatments From Formulated Polymers
All our products are highly concentrated and have outstanding flame resistant properties. They are designed to penetrate into materials, making them ideal for the treatment of a wide range of natural fibre and artificial fabrics. When the treated material is subjected to a flame, they quickly extinguish the fire, with minimal smoke.
To find out more about how our flame retardants and other treatments can benefit manufacturers in the textile industry, please get in touch with one of our advisers today.