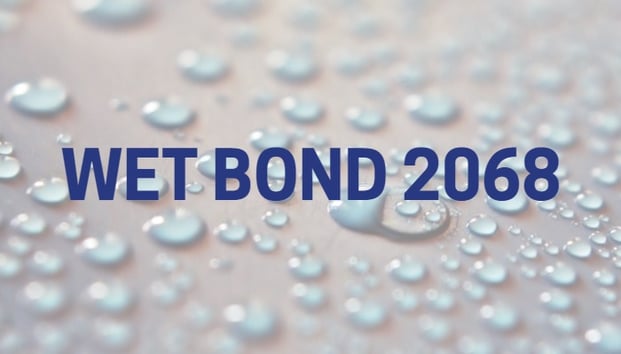 Wet Bond FP 2068 is the cornerstone of our new range of adhesives.
What Is Wet Bond 2068?
Wet Bond 2068 is a water-based adhesive designed for the wet lamination of aluminium foil or metallised film to paper, glassine or cardboard. Wet Bond 2068 has already found a wide variety of uses in the packaging industry. It is formulated for use in the manufacturing of high performance food packaging products.
Technical Benefits
Wet Bond 2068 offers several technical advantages to food packaging manufacturers including:
Casein and starch free, therefore eliminating any concerns regarding food allergies
Resistant to water and grease, and therefore ideal for wrapping butter, cheese, chocolate and stock cubes in aluminium foil or paper laminates
Withstands severe embossing immediately after lamination
Exhibits an excellent open time during lamination, irrespective of high ambient temperatures around the laminator.
Properties

Application Instructions
Wet Bond 2068 should be applied at a dry coating weight of 2.0 - 2.5 grams per square metre. This is very much depended on the porosity of the paper or cardboard.
The adhesive should be stirred well before use to ensure it is homogeneous, and then pumped into the press tray using a clean peristaltic pump.
To prevent the adhesive sticking to your application rollers, the applicator should be kept running during any machine stoppages. The adhesive is water-soluble, so as long as it remains wet, the machine can be easily cleaned with warm water after use.
For high temperature packaging applications ie 180°C, an addition of 1% wet-on-wet of Cross-Linker 2067 is recommended press side . Please see Section Three below for further details.
Food Contact Status
Wet Bond 2068 complies with all the main direct food contact regulations. The details of this are available on request by contacting our team.
Storage Instructions
Wet Bond 2068 should be stored in sealed containers between 5°C - 30°C. Protect all containers from frost and do not store in direct sunlight. Within these storage parameters, Wet Bond 2068 has a minimum shelf life of 3 months.
Health And Safety
Appropriate personal protective equipment must be worn when handling Wet Bond 2068, and the appropriate safety precautions taken. Full details are given on the Material Safety Data Sheet supplied with your product.